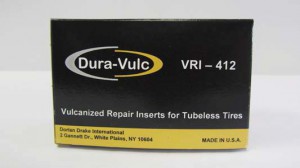 Tubeless tire repair strings, lnstaseal, are available in a large variety of configurations such as:
as well as packaging options/sizes:
Bulk / Band. Sheets wrapped with rubber band
Bulk / Bagged. Sheets packed in a bag
Box /no bags. Sheets loose in a Dura-Vulc® box
Box / bags. Sheets packed in a bag inside Dura-Vulc® box
Please specify your configuration for a custom quote. Note, minimum volume requirements apply for non-standard specifications.
Standard configuration 4″ (10cm) or 8″ (20 cm) length and 12 strand thickness in either orange, brown, or black, packets. 5 repairs on a sheet and bagged 5 sheets in a bag, with an optional Dura-Vulc® box.
While standard lnstaseal repairs are Vulcanized, we also offer a non-vulcanized options.
| | Part # | Packaging | Thickness | Length And Color | Strings Per Sheet | Sheets Per Bags | # Repairs |
| --- | --- | --- | --- | --- | --- | --- | --- |
| BAGGED | 1-425-OR | Bagged; 25 String repairs | Standard Thickness 12 Strand | 4" orange 12 strand repair | 5 | 5 | 25 |
| BAGGED | 1-825-OR | Bagged; 25 String repairs | Standard Thickness 12 Strand | 8" orange 12 strand repair | 5 | 5 | 25 |
| BAGGED | 1-425-BR | Bagged; 25 String repairs | Standard Thickness 12 Strand | 4" brown 12 strand repair | 5 | 5 | 25 |
| BAGGED | 1-825-BR | Bagged; 25 String repairs | Standard Thickness 12 Strand | 8" brown 12 strand repair | 5 | 5 | 25 |
| BAGGED | 1-425-BL | Bagged; 25 String repairs | Standard Thickness 12 Strand | 4" black 12 strand repair | 5 | 5 | 25 |
| BAGGED | 1-825-BL | Bagged; 25 String repairs | Standard Thickness 12 Strand | 8" black 12 strand repair | 5 | 5 | 25 |
| BAGGED | 1-430-OR | Bagged; 30 String repairs | Standard Thickness 12 Strand | 4" orange 12 strand repair | 5 | 6 | 30 |
| BAGGED | 1-830-OR | Bagged; 30 String repairs | Standard Thickness 12 Strand | 8" orange 12 strand repair | 5 | 6 | 30 |
| BAGGED | 1-430-BR | Bagged; 30 String repairs | Standard Thickness 12 Strand | 4" brown 12 strand repair | 5 | 6 | 30 |
| BAGGED | 1-830-BR | Bagged; 30 String repairs | Standard Thickness 12 Strand | 8" brown 12 strand repair | 5 | 6 | 30 |
| BAGGED | 1-430-BL | Bagged; 30 String repairs | Standard Thickness 12 Strand | 4" black 12 strand repair | 5 | 6 | 30 |
| BAGGED | 1-830-BL | Bagged; 30 String repairs | Standard Thickness 12 Strand | 8" black 12 strand repair | 5 | 6 | 30 |
| BAGGED | 1-430-8-OR | Bagged; 30 String repairs | Thin 8 Strands | 4" orange 8 strand repair | 5 | 6 | 30 |
| BAGGED | 1-630-6-BL | Bagged; 30 String repairs | Thin 6 Strand | 6" black 6 strand repair | 5 | 6 | 30 |
| BAGGED | 1-725-5-BR | Bagged; 25 String repairs | Thin 5 Strand | 7" brown 5 strand repair | 5 | 5 | 25 |
| BAGGED | 1-725-6-BR | Bagged; 25 String repairs | Thin 6 Strand | 7" brown 6 strand repair | 5 | 5 | 25 |
| BAGGED | 1-925-8-BL | Bagged; 25 String repairs | Thin 8 Strands | 9" black 8 strand repair | 5 | 5 | 25 |
| Bagged/Non-Vulcanized | 1-750NV-5-BL | Bagged; 50 String repairs | Non Vulcanized Thin 5 Strand | 7" black 5 strand repair nv | 10 | 5 | 50 |
| Bagged/Non-Vulcanized | 1-750NV-6-BL | Bagged; 50 String repairs | Non Vulcanized Thin 6 Strand | 7" black 6 strand repair nv | 10 | 5 | 50 |
| BOX/NO BAG (Loose Sheets) | 2-450-OR | Box, loose Sheets; 50 string repairs | Standard Thickness 12 Strand | 4" orange 12 strand repair | 5 | 10 | 50 |
| BOX/NO BAG (Loose Sheets) | 2-450-BR | Box, loose Sheets; 50 string repairs | Standard Thickness 12 Strand | 4" brown 12 strand repair | 5 | 10 | 50 |
| BOX/NO BAG (Loose Sheets) | 2-450-BL | Box, loose Sheets; 50 string repairs | Standard Thickness 12 Strand | 4" black 12 strand repair | 5 | 10 | 50 |
| BOX/NO BAG (Loose Sheets) | 2-825-OR | Box, loose Sheets; 25 string repairs | Standard Thickness 12 Strand | 8" orange 12 strand repair | 5 | 5 | 25 |
| BOX/NO BAG (Loose Sheets) | 2-825-BR | Box, loose Sheets; 25 string repairs | Standard Thickness 12 Strand | 8" brown 12 strand repair | 5 | 5 | 25 |
| BOX/NO BAG (Loose Sheets) | 2-825-BL | Box, loose Sheets; 25 string repairs | Standard Thickness 12 Strand | 8" black 12 strand repair | 5 | 5 | 25 |
| BOX/NO BAG (Loose Sheets) | 2-460-OR | Box, loose Sheets; 60 string repairs | Standard Thickness 12 Strand | 4" orange 12 strand repair | 5 | 12 | 60 |
| BOX/NO BAG (Loose Sheets) | 2-460-BR | Box, loose Sheets; 60 string repairs | Standard Thickness 12 Strand | 4" brown 12 strand repair | 5 | 12 | 60 |
| BOX/NO BAG (Loose Sheets) | 2-460-BL | Box, loose Sheets; 60 string repairs | Standard Thickness 12 Strand | 4" black 12 strand repair | 5 | 12 | 60 |
| BOX/NO BAG (Loose Sheets) | 2-830-OR | Box, loose Sheets; 30 string repairs | Standard Thickness 12 Strand | 8" orange 12 strand repair | 5 | 6 | 30 |
| BOX/NO BAG (Loose Sheets) | 2-830-BR | Box, loose Sheets; 30 string repairs | Standard Thickness 12 Strand | 8" brown 12 strand repair | 5 | 6 | 30 |
| BOX/NO BAG (Loose Sheets) | 2-830-BL | Box, loose Sheets; 30 string repairs | Standard Thickness 12 Strand | 8" black 12 strand repair | 5 | 6 | 30 |
| BOX/NO BAG (Loose Sheets) | 2-460-8-OR | Box, loose Sheets; 60 string repairs | Thin 8 Strand | 4" orange 8 strand repair | 5 | 12 | 60 |
| BOX/NO BAG (Loose Sheets) | 2-630-6-BL | Box, loose Sheets; 30 string repairs | Thin 6 Strand | 6" black 6 strand repair | 5 | 6 | 30 |
| BOX/NO BAG (Loose Sheets) | 2-750-5-BR | Box, loose Sheets; 50 string repairs | Thin 5 Strand | 7" brown 5 strand repair | 5 | 10 | 50 |
| BOX/NO BAG (Loose Sheets) | 2-725-6-BR | Box, loose Sheets; 25 string repairs | Thin 6 Strand | 7" brown 6 strand repair | 5 | 5 | 25 |
| BOX/NO BAG (Loose Sheets) | 2-925-8-BL | Box, loose Sheets; 25 string repairs | Thin 8 Strand | 9" black 8 strand repair | 5 | 5 | 25 |
| BOX/NO BAG (Loose Sheets) | 2-1250-8-BR | Box, loose Sheets; 50 string repairs | Thin 8 Strand | 12" brown 8 strand repair | 5 | 10 | 50 |
| BOX/NO BAG (Loose Sheets) | 2-1220-6-BL | Box, loose Sheets; 20 string repairs | Thin 6 Strand | 12" black 6 strand repair | 5 | 4 | 20 |
| BAG IN BOX | 4-440-OR | Bag in Box; 40 strings repairs | Standard Thickness 12 Strand | 4" orange 12 strand repair | 5 | 8 | 40 |
| BAG IN BOX | 4-440-BR | Bag in Box; 40 strings repairs | Standard Thickness 12 Strand | 4" brown 12 strand repair | 5 | 8 | 40 |
| BAG IN BOX | 4-440-BL | Bag in Box; 40 strings repairs | Standard Thickness 12 Strand | 4" black 12 strand repair | 5 | 8 | 40 |
| BAG IN BOX | 4-450-OR | Bag in Box; 50 strings repairs | Standard Thickness 12 Strand | 4" orange 12 strand repair | 5 | 10 | 50 |
| BAG IN BOX | 4-450-BR | Bag in Box; 50 strings repairs | Standard Thickness 12 Strand | 4" brown 12 strand repair | 5 | 10 | 50 |
| BAG IN BOX | 4-450-BL | Bag in Box; 50 strings repairs | Standard Thickness 12 Strand | 4" black 12 strand repair | 5 | 10 | 50 |
| BAG IN BOX | 4-820-OR | Bag in Box; 20 strings repairs | Standard Thickness 12 Strand | 8" orange 12 strand repair | 5 | 4 | 20 |
| BAG IN BOX | 4-820-BR | Bag in Box; 20 strings repairs | Standard Thickness 12 Strand | 8" brown 12 strand repair | 5 | 4 | 20 |
| BAG IN BOX | 4-820-BL | Bag in Box; 20 strings repairs | Standard Thickness 12 Strand | 8" black 12 strand repair | 5 | 4 | 20 |
| BAG IN BOX | 4-825-OR | Bag in Box; 25 strings repairs | Standard Thickness 12 Strand | 8" orange 12 strand repair | 5 | 5 | 25 |
| BAG IN BOX | 4-825-BR | Bag in Box; 25 strings repairs | Standard Thickness 12 Strand | 8" brown 12 strand repair | 5 | 5 | 25 |
| BAG IN BOX | 4-825-BL | Bag in Box; 25 strings repairs | Standard Thickness 12 Strand | 8" black 12 strand repair | 5 | 5 | 25 |
| BAG IN BOX | 4-460-OR | Bag in Box; 60 strings repairs | Standard Thickness 12 Strand | 4" orange 12 strand repair | 5 | 12 | 60 |
| BAG IN BOX | 4-460-BR | Bag in Box; 60 strings repairs | Standard Thickness 12 Strand | 4" brown 12 strand repair | 5 | 12 | 60 |
| BAG IN BOX | 4-460-BL | Bag in Box; 60 strings repairs | Standard Thickness 12 Strand | 4" black 12 strand repair | 5 | 12 | 60 |
| BAG IN BOX | 4-830-OR | Bag in Box; 30 strings repairs | Standard Thickness 12 Strand | 8" orange 12 strand repair | 5 | 6 | 30 |
| BAG IN BOX | 4-830-BR | Bag in Box; 30 strings repairs | Standard Thickness 12 Strand | 8" brown 12 strand repair | 5 | 6 | 30 |
| BAG IN BOX | 4-830-BL | Bag in Box; 30 strings repairs | Standard Thickness 12 Strand | 8" black 12 strand repair | 5 | 6 | 30 |
| BAG IN BOX | 4-460-8-OR | Bag in Box; 60 strings repairs | Thin 8 Strand | 4" orange 8 strand repair | 5 | 12 | 60 |
| BAG IN BOX | 4-460-8-BR | Bag in Box; 60 strings repairs | Thin 8 Strand | 4" brown 8 strand repair | 5 | 12 | 60 |
| BAG IN BOX | 4-460-8-BL | Bag in Box; 60 strings repairs | Thin 8 Strand | 4" black 8 strand repair | 5 | 12 | 60 |
| BAG IN BOX | 4-630-6-BL | Bag in Box; 30 strings repairs | Thin 6 Strand | 6" black 6 strand repair | 5 | 6 | 30 |
| BAG IN BOX | 4-725-5-BR | Bag in Box; 25 strings repairs | Thin 5 Strand | 7" brown 5 strand repair | 5 | 5 | 25 |
| BAG IN BOX | 4-725-6-BR | Bag in Box; 25 strings repairs | Thin 6 Strand | 7" brown 6 strand repair | 5 | 5 | 25 |
| BAG IN BOX | 4-925-8-BL | Bag in Box; 25 strings repairs | Thin 8 Strand | 9" black 8 strand repair | 5 | 5 | 25 |
| BAG IN BOX/Non-Vulcanized | 4-750NV-5-BL | Bag in Box; 50 strings repairs | Non Vulcanized Thin 5 Strand | 7" black 5 strand repair nv | 10 | 5 | 50 |
| BAG IN BOX/Non-Vulcanized | 4-750NV-6-BL | Bag in Box; 50 strings repairs | Non Vulcanized Thin 6 Strand | 7" black 6 strand repair nv | 10 | 5 | 50 |
| MISC. | 3-174 | Box, loose Sheets; 50 string repairs | Standard Thickness 12 Strand | 4" 12 strand "match box" Slider Box-P/M | 5 | 10 | 50 |
| MISC. | 3-175 | Box, loose Sheets; 50 string repairs | Standard Thickness 12 Strand; Mylar on Mylar | 4" 12 strand "match box" Slider Box-M/M | 5 | 10 | 50 |
| MISC. | 3-176 | Box, loose Sheets; 280 string repairs | Standard Thickness 12 Strand | 4" 12 strand Hanging Box P/M | 5 | 56 | 280 |
| MISC. | 3-177 | Box, loose Sheets; 280 string repairs | Standard Thickness 12 Strand; Mylar on Mylar | 4" 12 strand Hanging Box M/M | 5 | 56 | 280 |