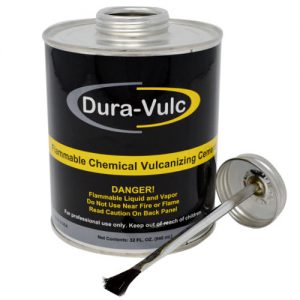 We offer a number of different cements; clear, blue, black and both flammable and non-flammable. The blue comes in a regular version and a heavy duty version. The regular blue version is very similar to the clear formulation. The viscosity has a slight characteristic change that gives the blue heavy duty version a little more tack and increased drying time due to solid increase from the amount of rubber used.
Regardless of solvent used, flammable vs. non-flammable, the products are virtually the same except for the flammability issue. Some countries and some users require non-flammable formulation by regulatory law or company policy. Performance is the same, and bonding strength is the same between both cement solvents. Drying time may vary slightly by not significantly to notice. Weight of non-flammable is greater, but has no factor on performance. Both flammable and non-flammable cements are considered hazardous for shipping purpose.
The black cement is formulated without accelerators and can only be used in heat cure system. It also has carbon black as part of the compounding for the cross linking of the molecular process of vulcanization.
Chemical Vulcanizing Cement
Fast Drying.
Brush top can.
Non-ozone depleting chemicals.
Cures with or without heat.
Chemical activation.
Available in clear, blue and black.
Available both flammable and non-flammable formula.
Reduces wait and allows for prompt repair.
True vulcanizing cement that reacts with rubber facing gum to chemically bond repair units.
| Part # | Product Code | CAN/CS |
| --- | --- | --- |
| 3-700 | Chemical Vulcanizing Cement Flammable - 4 Oz | 24 |
| 3-701 | Chemical Vulcanizing Cement Flammable - 8 Oz | 24 |
| 3-702 | Chemical Vulcanizing Cement Flammable - 1 Qt | 12 |
| 3-704 | Chemical Vulcanizing Cement Flammable - 5 Gal | 1 |
| 3-704-54 | Chemical Vulcanizing Cement Flammable - 54 Gal | 1 |
| 3-695 | Chemical Vulcanizing Cement Flammable Blue - 4 Oz | 24 |
| 3-698 | Chemical Vulcanizing Cement Flammable Blue - 8 Oz | 24 |
| 3-697 | Chemical Vulcanizing Cement Flammable Blue - 1 Qt | 12 |
| 3-690 | Chemical Vulcanizing Cement Flammable Blue HD - 4 Oz | 24 |
| 3-691 | Chemical Vulcanizing Cement Flammable Blue HD - 8 Oz | 24 |
| 3-692 | Chemical Vulcanizing Cement Flammable Blue HD - 1 Qt | 12 |
| 3-705 | Chemical Vulcanizing Cement Non Flammable - 4 Oz | 24 |
| 3-706 | Chemical Vulcanizing Cement Non Flammable - 8 Oz | 24 |
| 3-707 | Chemical Vulcanizing Cement Non Flammable - 1 Qt | 12 |
| 3-756 | Chemical Vulcanizing Cement Non Flammable Blue - 4 Oz | 24 |
| 3-757 | Chemical Vulcanizing Cement Non Flammable Blue - 8 Oz | 24 |
| 3-758 | Chemical Vulcanizing Cement Non Flammable Blue - 1 Qt | 12 |
| 3-759 | Chemical Vulcanizing Cement Non Flammable Blue - 5 Gal | 1 |
| 3-759-54 | Chemical Vulcanizing Cement Non Flammable Blue - 54 Gal | 1 |
| 3-724 | Black Vulcanizing Cement Flammable Spray - 5 Gal | 1 |
| 3-712 | Black Vulcanizing Cement Flammable Brush - 1 Qt | 12 |
| 3-713 | Black Vulcanizing Cement Flammable Brush - 1 Gal | 4 |
| 3-714 | Black Vulcanizing Cement Flammable Brush - 5 Gal | 1 |
| 3-714-54 | Black Vulcanizing Cement Flammable Brush - 54 Gal | 1 |
| 3-717 | Black Vulcanizing Cement Non Flammable Brush - 1 Qt | 12 |
| 3-718 | Black Vulcanizing Cement Non Flammable Brush - 1 Gal | 4 |
| 3-719 | Black Vulcanizing Cement Non Flammable Brush - 5 Gal | 1 |
| 3-719-54 | Black Vulcanizing Cement Non Flammable Brush - 54 Gal | 1 |
| 3-747 | Black Vulcanizing Cement Flammable Brush X-Thick - 1 Qt | 12 |
| 3-748 | Black Vulcanizing Cement Flammable Brush X-Thick - 1 Gal | 4 |
| 3-749 | Black Vulcanizing Cement Flammable Brush X-Thick - 5 Gal | 1 |