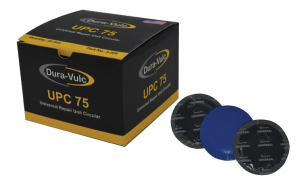 Universal Repair Unit
The Dura-Vulc® Universal Repair was developed for use in both radial and bias applications as well as tube or tubeless tire constructions. This repair concept provides added strength over a rubber reinforced repairs unit because of its special woven fabric ply that provides strength and multi universal direction control when applied to the tire. This repair choice offers premium quality strength in a multi directional choice. The Universal repair is an excellent repair choice when repairing tire where reinforcement ply is required.
All Purpose Repair Unit
All Purpose Rubber Reinforced Repair units are for use in virtually any application. Can be used with Radial tire, and with Bias tires when reinforced with a stem insert to fill the injury. The all-purpose repair has an extra thick gauge of rubber reinforcement to provide a combination of flexibility with durability for bias and radial tube type or tubeless tires and can be used on all type of inner tubes.