DURA-VULC, THE SAFEST, TESTED TUBELESS TIRE REPAIR SEALS YOU CAN BUY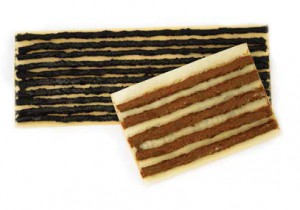 Standards Testing Laboratories, Inc. in Massillon, Ohio, an independent testing laboratory, took their "tough on testing" approach and applied it to an evaluation of externally administered tire plug repairs in tubeless passenger car tires.
Their objective: To evaluate the performance of tubeless passenger car tires that have been punctured in multiple locations and then repaired using plug tire repair material only. The test was conducted on four tires with four punctures per tire and fixed with our tire plug repairs. The tires, purchased at retail, were Goodyear Regattas. The tire size- P215/75R15-represents typical passenger tires. Every effort was made to use tires that would be used in everyday driving conditions.
First, the tires were punctured with nails that were cut, sharpened to a point, and driven into the tire at the proper angle. Proper angle was assured through use of a jig to hold the nail.
[sc:endurance-test-data]
Nails were driven completely into the tires so that the head of the nail rested on the groove bottom. Tire/wheel assemblies were broken in for 25 miles at 50MPH. Tires were dismounted from the wheels. Each puncture location was marked, both inside and outside the tire. The nails were then removed, and the puncture material inserted per the prescribed procedure. There was no evidence of leaks found on any tire.
Prior to the endurance test, an x-ray examination was made of each repair on the tire. Repairs appeared normal and properly located.
Holographic examinations were used to identify areas of any trapped air in the tires, and were thoroughly documented.
The test included two indoor testing trials and a 40,000-mile roadway endurance test. The results: "There was no evidence of air leakage, either by bubble detection or air pressure loss, from any of the tires either before, or on completion of, the three different test protocols."
Notice Standards Testing Laboratories does not endorse or recommend any product they test.
Testing proves Dura-Vulc® tubeless tire repair seals score big on safety
Reliability, performance, and safety: That's what you get with Dura-Vulc® tubeless tire repair seals. It's a claim made with confidence because of the rigorous, third-party testing Dura-Vulc® products undergo. No other tubeless tire repair seal has the test results and EPA approval Dura-Vulc® has to prove reliability, performance, and safety. Dura-Vulc® tubeless tire repair seals may look small-one repair seal approximates the size and shape of a four-inch piece of licorice candy-but they make a big difference to anyone who wants a reliable, affordable, and convenient repair seal for their tubeless car or truck tires. Dura-Vulc®'s tubeless tire repair seals withstand rigorous testing because of a unique manufacturing process used by our manufacturer in Texas, USA, to standards that have tested safe and reliable.
Application is easy
You can repair a punctured tire in a matter of minutes with Dura-Vulc® tubeless tire repair seals. There's no need for expensive tools and training. There's no need for a dedicated work space. There's no need to even remove the punctured tire from the wheel.
Using Dura-Vulc® tubeless tire repair seals and two tools-the probe and needle, you can complete a secure repair in about 5 minutes or less. First, locate the puncture and remove the damaging object. Then, dip the probe into the tire repair lubricant. Push the probe into the puncture, working it up and down to clean the puncture. Center the repair material into the eye of the needle and push into the hole until only about 1/4-inch of the repair material remains outside the tire. Turn the needle and slowly pull out. Cut the repair material so it is flush with the tire, the repair is complete.
With little labor required, Dura-Vulc® tubeless tire repair seals are a cost-effective way to provide reliability, performance, and safety on the road.