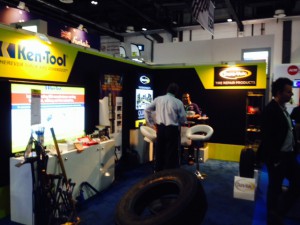 Dura-Vulc® / Ken-Tool booths and products displayed at the show.
Dorian Drake International debuted its Dura-Vulc® brand of tire repair products in the Middle East region June 3-5, 2014 at Automechanika Dubai, one of the world's largest automotive aftermarket trade shows.
The centerpiece of the Dura-Vulc® line is a leading USA-made line of tire repair string inserts Dorian Drake has sold internationally for more than twenty years. Dorian Drake this year extended the Dura-Vulc® range to include top quality patches, cements, tools and tire repair kits.
Dura-Vulc® products are manufactured in India, Holland and Texas, USA and sold worldwide.